Social-Security Offices
Budget Cut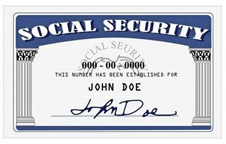 Social Security Offices
In USA cities and towns are now cutting office hours by 1/2 an hour a day to close earlier than previously done.
Offices that closed at 3:30 are now closing at 3PM as of November 17, 2012.

Not only that, but in January 2013 starting on the second of the month offices will close at noon on Wednesdays.

The day after Thanksgiving the offices will be closed to the public, but workers will be there to get work done.
The whole point of this is to give the employees more time to do the work that they have to do behind the scenes.
The significantly reduced funding provided by Congress under the continuing resolution for the first six months of the fiscal year makes it impossible for the agency to pay out the overtime needed to service the public as it had done in the past.
Workers still have 40 hours a week
The workers will still have a 40 hour a week job, but less time will be involved in directly dealing with customers, and more time to do the other paperwork and backlogs of work that needs to be finished.
The over time paid out to employees is costly and found to be unnecessary with a cut in hours.

These time cuts will save some money for the country.
This seems like a good idea. The people who for the most part are collecting and using social security do not have to work, so the hours of the social security office's operation are not so crucial.

People do not have to go to the Social-Security office after work because they do not work.
Last year the hours were cut from closing at 4PM to a closing of 3:30PM.
If you need to get an application
To retire, Social Security services, replacement of Medicare card, disability benefit, Medicare benefits, a set up for a direct deposit of checks, etc. you do not have to go to the office as it can be done online at socialsecurity.gov or by calling 800-325-0778.

For Spanish go to the website segurosocial.gov.

For those folks who are deaf or hard of hearing can call the agency's TTY number at
800-325-0778.
If you seriously need to go there, you can make an appointment ahead of time to be sure to get in touch with whomever or whatever services you need.
copyright ©Social-Security.biz since 2011
-
disclaimer